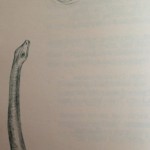 This week's #RestoringFaith is a little different.
I had the pleasure of writing a freelance story on Robert Learner. He is the former director of the Kingman Museum of Natural History. Throughout his career, he collected and set to music poems about dinosaurs, scientific theories and museums. It was a hobby, an interest. No one was paying him to do it. They are clever songs and honestly entertaining and over the decades he has performed them to audiences all over the nation. After his retirement, he collected his favorites in a book, which his wife, the very talented Joanna Learner, illustrated. I had the pleasure of interviewing Joanna last year. The drawings are detailed, yet whimsical – like the dinosaur glancing with innocent curiosity at the meteorite falling from the sky. The corresponding song, The Iridium Connection, relates the theory that a meteor wiped out the dinosaur. Both the song and the art makes me chuckle.Robert recorded a CD for the book, taking hours in his basement to perfect the sound, strumming on his one and only guitar that he bought in Mexico 57 years ago. He gave me a complimentary copy of this handsome book. Chuckling, he said, "I'm averaging about 10 sales a year."
That was what got me. The songwriting, the book, the art, all of it was simply for the joy of doing it and sharing it. "I had no real aims," Robert said. "I just enjoyed it." As I scramble to prepare for my book launch this May, I am overwhelmed with numbers and tasks and not feeling good enough or ready enough. Talking with Robert reminded me why I ever picked up a pen in the first place – for the joy of doing it and sharing it.
Faith restored…